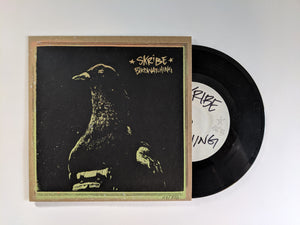 a2. 'Birdwatching' (7" vinyl) • exclusive (green/red test pressing)
Regular price $10.00 Sale
The vinyl debut of the new single 'Birdwatching' featuring a full band studio version of Everything's Changed. The A side will go digital in late February but the B side will only be available on this limited run of records.
7" test pressing on black vinyl. Plays at 33 1/3 rpm with small spindle hole. Jacket cover painted by Aaron and then locally silkscreened by Blk Ankr Industries.
 Artwork and album assembly by A. Yealdhall. Thanks to Blk Ankr Industries in Annapolis for the inking.
tracklisting
A. Birdwatching
B. Everything's Changed (full band studio version)
$10 ea + $3.50 for shipping