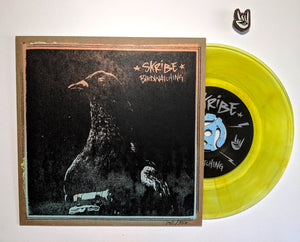 'Birdwatching' (7" vinyl) • EXCLUSIVE (translucent yellow)
Regular price $11.00 Sale
The vinyl debut of the new single 'Birdwatching' featuring a full band studio version of Everything's Changed. The A side will go digital in late February but the B side will only be available on this limited run of records.
7" pressing on 'neon yellow' translucent vinyl. Painted blue/pink fade cover by Aaron and silkscreened ink by Blk Ankr Industries. cover art by Aaron.*Includes a laser-cut wooden 45 adaptor
 Artwork and album assembly by A. Yealdhall. 
tracklisting
A. Birdwatching
B. Everything's Changed (full band studio version)
$11 ea + $3.50 for shipping.