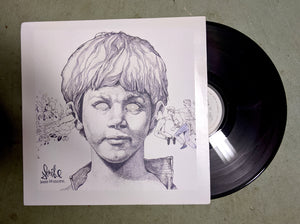 'less is more' TEST PRESSING (12" vinyl 180 gram record) #2 of 5
Regular price $45.00 Sale
Look what I found in the vault! # 2 out of 5 test pressings with a jacket I assembled.
'Less is more' is a homegrown batch of stripped down (mostly acoustic) songs that have plenty of room to breathe.
'less is more' was produced with vinyl in mind. Each sleeve print is numbered, & some are hand colored so every album in this batch of 450 is unique. Translucent 'ecto cooler' green 180 gram vinyl hand pressed by the legendary Musicol Recordings in Columbus Ohio. This project was crowd-funded by pre-orders from our awesome friends & fans!
*every 12" 180 gram LP purchase comes with a free digital download! 
tracklisting
1. mine all mine 2. freudian script 3. wicked charm 4. could be worse 5. john muir 6. warm blooded 7. great unknown 8. curse reverser 9. belly of the beast 10. everything's changed